Oh, not my lil Doggy...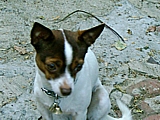 My Little Girl, HACAWI (lil one) .
You gotta love this lil
Ratdog
! I sure do!
So sweet, so inocent looking...
Til
you get close for ankle biting !!
Did you ever hear of the chihuahua who brought a Pit Bull to its knees... and then killed it???
Hey, i kid you not!!! The dam Pit Bull choked on it!! Oh, but look now cute and sweet my lil one is....
Yeah, Right!!
You have been warned!